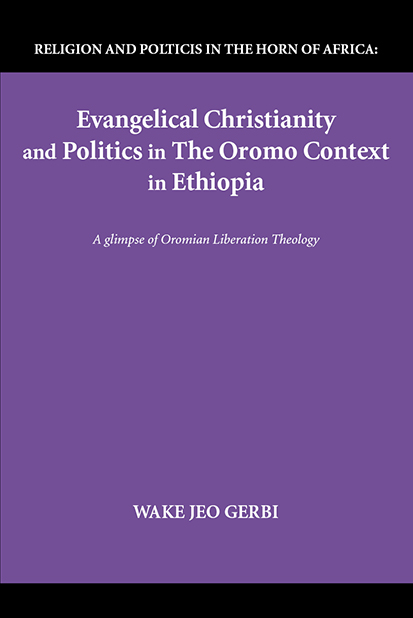 Evangelical Christianity and Politics in the Oromo Context in Ethiopia

Wake Jeo Gerbi
Publicerad: 2016
Språk: engelska
Sidantal: 340
Format: 138x206 mm
Utförande: Limbunden
ISBN: 978-91-639-0367-0
Beställningsadress:
Författares Bokmaskin
staff@bokmaskinen.se
www.bokmaskinen.se
Box 12071
102 22 STOCKHOLM
Telefon: +4687850385, +4687850385
Wake Jeo Gerbi, an Oromo theologian and intellectual, exposes the crimes that the Abyssinian rulers and their supporters have been committing on the Oromo nation and other colonized nations. He brilliantly proposes strategies for Christian Oromos to join with their Waqqeffannaa and Muslim brothers and sisters to struggle and break the yoke of Ethiopian colonialism and to enjoy religious and political freedom in Oromia. Following the footsteps of Reverend Gudina Tumsa of Oromia, the Reverend Dr. Martin Luther King of Black America and Bishop Desmond Tutu of South Africa, Gerbi forcefully argues that, like other colonized peoples, the Oromo of all religious backgrounds should develop Oromummaa in order to unite against their tormentors to fulfill their religious missions of liberation and social justice.
Asafa Jalata, PhD, Professor of Sociology and Global and Africana Studies
at the University of Tennessee,Knoxville,USA
Wake Jeo Gerbi's book is an important contribution on the role of religion in the lives of oppressed peoples in general and the Oromo in particular. The core of Gerbi's book is a critique of the neutral position held by apolitical Oromo Christians in relation to the ongoing Oromo struggle for self-determination. Using the Bible as his evidence, he argues convincingly that there is no contradiction between politics and religion and that participation in politics is not immoral as long as a balance between what is political and spiritual is maintained. He takes up moral principles in this connection and suggests that political oppression and religious fundamentalism are the unethical antitheses of such a balance. As a contribution to Oromo liberation theology Gerbi's work is the first one. It is an essential reading to anyone who is interested in the role of religion in Oromo and Ethiopian politics.
Mekuria Bulcha, Ph. D, Professor Emeritus Nordic Africa Institute, Uppsala, Sweden
Wake Jeo Gerbi is an Oromo theologian and intellectual who was born in 1980 in Wallaga, Ethiopia. He is a preacher who has been actively involved in the Oromo people's struggle for freedom starting from his early school age. He received his MA in Theology and MA in Religion, Society and Global Issues from the Norwegian School of Theology. Currently, he is studying Intercontextual Theology while taking courses from other academic areas like Law and Philosophy at the University of Oslo. Gerbi has written different articles and presented several papers at different conferences. He was a part-time teacher of theology at Mekane Yesus Seminary in Music Department in 2008 and at Oslo International Bible College in 2012. Gerbi lives in Norway.