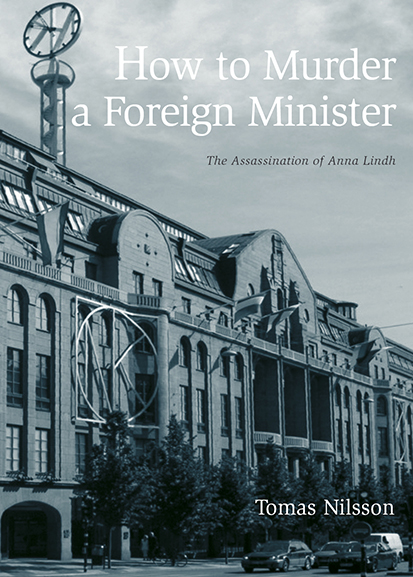 How to murder a foreign minister

Tomas Nilsson
Publicerad: 2016
Genre: Kriminallitteratur
Språk: engelska
Sidantal: 382
Format: 165 x 230 mm
Utförande: limbunden
ISBN: 978-91-637-7893-3
Beställningsadress:
Tomas Nilsson
tomas.s.nilsson@home.se
Kronobergsgatan 7, 2 tr
112 38 Stockholm
Telefon: 08-650 92 33
It was not Mijailo Mijailovic who fatally stabbed the Swedish Minister for Foreign Affairs, Anna Lindh, at the department store NK in Stockholm on 10 September 2003.
Instead, the assassination was a carefully planned political assault, arranged to make it look like it was committed by a lone, mentally disturbed and confused perpetrator. The official version of the sequence of events leaves a lot of question marks.
• "The NK Man" is not identical to the attacker
• The knife dropped on the escalator at NK, is not the murder weapon
• The attacker's cap, has three different details from the cap with Mijailovic's blood that was found in Salengallerian
• According to both the taxi driver and Mijailovic's mother, he changed clothes when he arrived at his home in Tullinge. He then carried on to Hovsjö, where a pair of green trousers with blood from Lindh was later discovered
• Emergency calls made after the attack on Lindh may have been manipulated. Someone called the police with a false description of the perpetrator
• The NK department store was full of odd individuals, on the day that Anna Lindh was stabbed. They deviated from the store's ordinary shoppers, either through their appearance or behaviour
In the book, witness statements and the forensic evidence are closely analysed. Several hitherto unknown witness statements are presented, and a picture of how the attack was executed is composed. In conclusion, the author explains what he believes to be the motive for the assassination – there is a suspected link to terrorism – and who were behind it.
Tomas Nilsson was born in Sweden in 1953. He has previously worked within IT in the Swedish banking industry. Since 2003 he works full-time as a private investigator, with a particular interest in unsolved or curious public cases, such as the assassination of Prime Minister Olof Palme and the sinking of the passenger ship Estonia. He has carried out his own thorough investigation into the murder of Anna Lindh, which he presents to the public with this book.