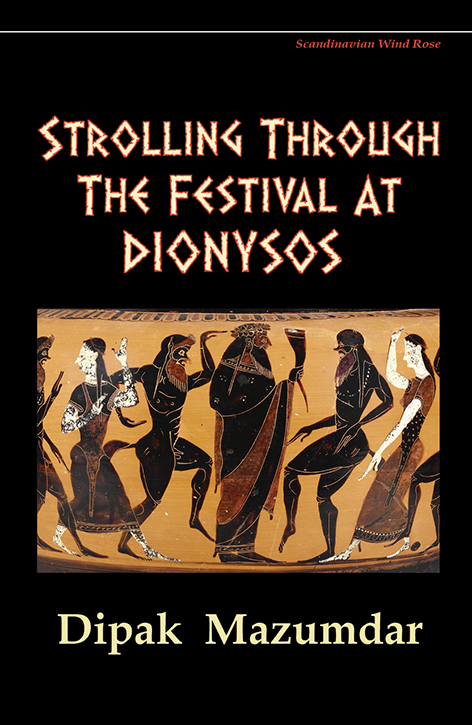 Strolling Trough The Festival At Dionysos

Dipak Mazumdar
Publicerad: 2017
Genre: Poesi
Språk: svenska
Sidantal: 70
Format: 140x216 mm
Utförande: Limbunden
ISBN: 978-91-980386-1-3
Beställningsadress:
Ars Interpres, Alexander Deriev
deriev@arsint.com

"[Dipak Mazumdar's] images blossom like Japanese paper flowers in a glass of water, lushly beautiful but also cruel and tangible."
Marie Lundquist, Karavan
"Mazumdar moves swiftly between time and space, between art and life."
Erik Bergqvist, Svenska Dagbladet
"For what Mazumdar is celebrating is the body, in Whitman's sense -a song delivered in a rough voice against an orchestral accompaniment laden with overpowering sensations."
Ragnar Strömberg, Göteborgs-Posten
"The contents become a mildly absurdist dance across the world, unlike anything current by Swedish poets."
Magnus Ringgren, Aftonbladet
"Mazumdar visar något väsentligt om att festen handlar om livsglädje och flykt. Han förenar uppsluppenheten med en svidande kritik mot underhållningsbegäret, rotar sina texter i sinnliga upplevelser och rotar sedan vidare i världslitteratur och kulturer utan att tappa greppet."
Calle Flognman, Tidningen Kulturen